2007 White Hawk Vineyard, Sangiovese, Santa Barbara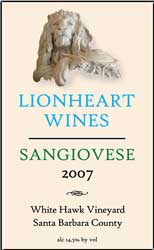 The fruit for this wine came from the very sandy White Hawk Vineyard in Santa Barbara County. The vines had to work extra hard resulting in concentrated and pure fruit rarely seen outside of Tuscany. A small amount (3%) of Napa Valley Cabernet Sauvignon from the Young-Inglewood Vineyard was blended in to enhance the finish, aromas/flavor complexity and overall balance.
The wine is a deep ruby/purple with pronounced aroma intensity of candied rose petals, violets, blueberry, and cherry (red, dark and sour) made in the Super Tuscan tradition. The palate shows medium tannins, medium+ length, high acidity and flavors matching the aromas with the addition of cranberry, red currants and cracked peppercorns on the finish. The wine will be ready to drink at release with peak development 1 to 2 years after release.
It is an excellent wine best served with tomato-based Italian pasta dishes, wild boar, peppercorn flank steak and BBQ chicken. The wine shows that California can grow excellent Sangiovese!
Bronze medal at 2009 Long Beach Grand Cru wine competition.
Analysis:
Alcohol: 14.9%
pH: 3.30
TA: 7.7 grams / liter
Bottling Date: February 25, 2009
Release Date: October 7, 2009
Produced: 26 cases
Price: $25 - retail; $21.25- wine club
Buy Wine!
Recommended Recipe:
Wild Boar in Sweet and Sour Chocolate Sauce
Smoked Saddle of Wild Boar with Currant Sauce
Baby Back Pork Rib Rubbed with Chinese Five Spice & Slathered in Hoisin Sauce