2008 Sangiovese, White Hawk Vineyard, Santa Barbara County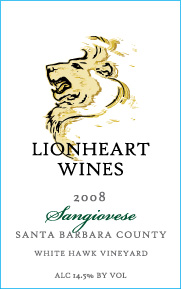 The sandy soils of the White Hawk Vineyard stess the vines resulting in small berries with concentrated flavors rarely seen outside of Tuscany. The result is an amazing Sangiovese reminiscent of Brunello di Montalcino with an oqaque ruby color and intense aromas of boysenberry, roses, baking spices, and cherries. The wine is simply delectable with bright acidity, smooth tannins and flavors of boysenberry, blueberry, floral, cherries and baking spices culminating in a long, mouth-filling, tart finish.
This wine shows California can grow excellent Sangiovese!
Leon recommends serving this wine with rotisserie chicken, smoked sausage, wild boar stew and braised lamb.
Price: retail - $25, wine club - $21.25, pre-release - $20
Buy wine
Analysis:
Alcohol: 14.5%
Release Date: March 28, 2011
Production: 25 cases
Recommended Recipe:
Black Truffle Soup
Rabbit with Lime Creme Fraiche
Osso Bucco with Gremolada
Tuscany-theme Dinner Party
Wild Boar in Sweet and Sour Chocolate Sauce