2008 The Angel's Fare, Saralee's Vineyard, Russian River Valley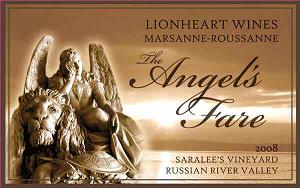 This blend of Marsanne (50%), Roussanne (48%), and Viognier (2%) is a delicate, unique, almost "ethereal" wine – a secret to share with intimate friends on a warm summer day.
Aromas of green apple, yellow apple, mineral, white floral, pear, sweet spices and a hint of black tea and matching flavors with the addition of apricot with a creamy texture are layered over a balanced acidity mellowed by barrel aging in nearly neutral French oak for 8 months allowing the flavors to marry and develop enjoyable complexity. 100% of the Roussanne did not go through malolactic fermentation to help retain the natural acidity. The wine was bottled early to retain the bright and lovely fruit characteristics. The wine will improve in bottle over the next 2 to 3 years.
Leon recommends it with crab cakes, Waldorf Salad, shellfish, apple/pear tart, seafood salad with vinaigrette dressing, or something a little bit spicy!
Bronze Medal - 2010 San Francisco Chronicle Wine Competition
Price: $27 - retail, $21.80- pre-release wine club
Buy Now!
Analysis:
Alcohol: 13.5%
pH: 3.4
TA: 5.3 grams / liter
RS: 0.0 grams / liter
Bottled: June 24, 2009
Release: June 21, 2010
Production: 50 cases
Recommended Recipe:
Apple and Pear Tartlets
Arugula Salad with Pears, Oven-Dried Grapes, and Roasted-Shallot Vinaigrette
Nage of Alaskan Prawn with Chanterelles & Green Asparagus
Roast Turkey with Herb Butter and Caramelized-onion Gravy